RE-style BAMBOO
Bamboo wall material
Preparation to attach BAMBOO
Necessary tools
Ruler

Quick-dry type adhesive

Sandpaper

Thumbtack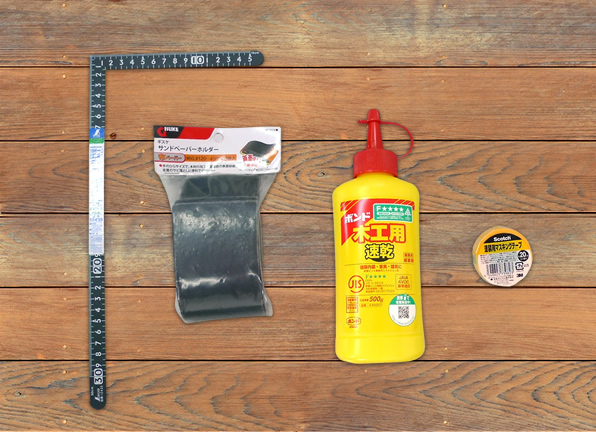 Please cover the floor with a sheet (old newspapers, etc.) to prevent any dirt before execution of works.

Take out the bamboo pieces from the package and temporarily arrange them in well balance by paying attention to the direction of knots.
[Tip] Make a little smaller than the exact size.
As this product is made of natural genuine bamboo material, it may swell or shrink by humidity or moisture. If you attach them without any gap, some of the pieces may be floated up by being pushed out due to swelling of materials. Leave a little gap between pieces and make the total size a little smaller than the actual size.

Apply the adhesive with a circle of approx. 1-cm radius at several points on the back of BAMBOO.
If you apply too much, excess adhesive will be protruded when pushed to fix on the adhesive surface, and you can't finish neatly.
Please use the adhesive for wood for gypsum board or plywood subtrate, and the adhesive exclusive for concrete for concrete subtrate.

Please leave some gaps between pieces to attach. Quick-dry type adhesive will start hardening from the surface in a few minutes, but when you attach on a vertical wall, please hold them by temporal tackings to prevent them from dropping before the adhesive dries completely.
(Thumbtacks are used in the photo.)
[Tip] Attach the end first.
When the positions of both ends of the area to attach, please attach the both ends first, or attach the one end before attaching the one row inside the end, to make the end line straight.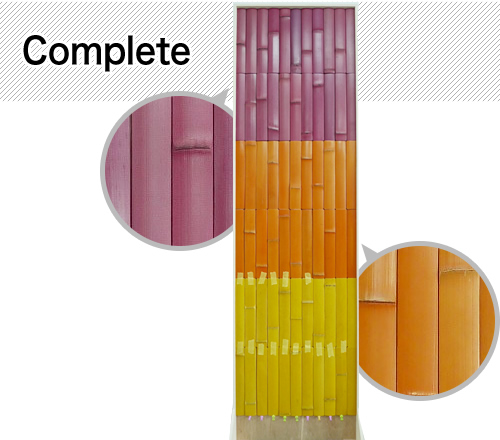 Example to use 3 colors in gradation.
As the pieces were attached from the top, the lower pieces were fixed with temporal tackings.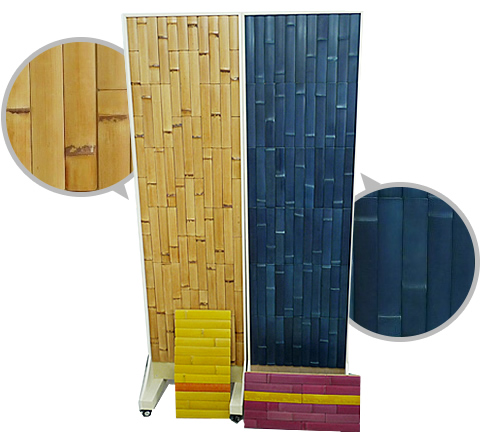 RE-Style BAMBOO partitions are completed. (Photo shows the partitions using persimmon-dyed BAMBOO and indigo-dyed BAMBOO.)
RE-style BAMBOO Product list